As a StreetAdvisor contributor, I have been considering how to answer the question,
This is a loaded question, indeed!
Here are the reasons I CANNOT answer the question:
What's "upper middle class"? Certainly, the cost of living in Chicago is higher than the cost of living where I grew up — in Bloomington, Illinois. We're not Manhattan, however. Chicago has 77 neighborhoods, or communities, all with their own charms.
What's "best" ?  Best in terms of location? Amenities? Value? What's best for the young professional right out of college may not be best for a family of 5 with 3 kids in elementary school, nor the same for empty nesters in their mid 60's.
Here's what I CAN answer:
Average (mean) cost of single family homes by neighborhood,
Published demographic information by neighborhood
Amenities for each neighborhood
Relative Prices of Some Chicago North Side Neighborhoods
For purposes of this post, I'm including a few examples of neighborhoods in which I'm most familiar. This is NOT an all-inclusive list of neighborhoods in Chicago. The chart below shows average (mean) prices for single family homes – resale only (not new construction) for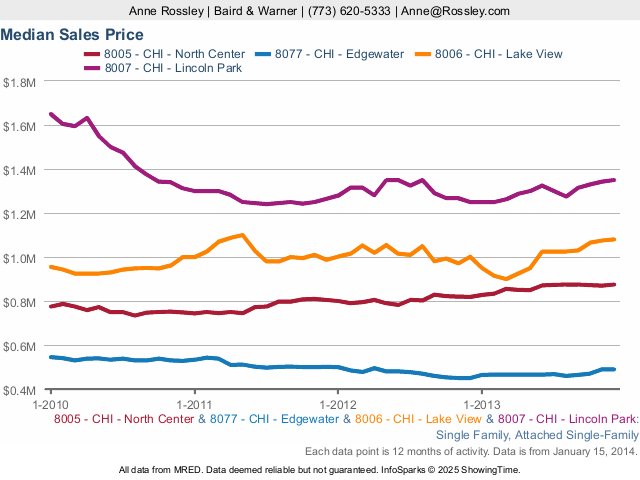 As of today's writing, the average  prices are:
Lincoln Park      $1,350,000
Lakeview      $1,080,000
North Center      $875,000
Edgewater      $489,614
The prices aren't surprising – essentially, the closer the neighborhood lies in relation to the loop, the more expensive the homes.
Micro-Neighborhoods in Chicago
These neighborhoods include many sub- or micro-neighborhoods. Sales prices within each neighborhood can vary greatly, depending on many factors (proximity to public transportation, conformity, school district…)
For example, Edgewater has multiple micro-neighborhoods, delineated by block clubs,  as seen in this map:
There are so many neighborhoods, micro-neighborhoods, and even preferred areas within the micro-neighborhoods that giving an average price for Edgewater is somewhat misleading. I live, for example, in Lakewood Balmoral (# 16 above). This block group, the Lakewood Balmoral Historic District, is part of Andersonville, which is part of the Edgewater Community. To give an average resale price for all areas above is not at all indicative of the values within LBRC (or #16).
Here are the differences:
| | # Properties Closed | # Days on Market | Median Sales Price |
| --- | --- | --- | --- |
| Lakewood Balmoral Historic District | 11 | 67 | $940,000 |
| Edgewater Community | 65 | 98 | $470,000 |
 Beyond Home Prices – Other Criteria for Choosing a Neighborhood
So far, we've just talked about average prices.
Other things to consider when choosing a "best" neighborhood:
Crime by block, neighborhood, police beat, community – See Clear Map – Select this link
Elementary Schools – See my website to learn more about Chicago Elementary Schools and specifically, CPS Elementary School Districts on the city's north side.
Proximity to Public Transportation/Highways – See Map Below and click on photo to pull up website.
Having said all this, I find there's no way to easily answer the question, "What is the best upper middle class neighborhood in Chicago".
This post is just a long-winded way of saying that it's critical that buyers work with an experienced Realtor who's familiar with the neighborhoods AND MICRO-NEIGHBORHOODS in Chicago, who can help clients best understand their priorities, and who can then provide all options that meet those needs.