The most frequently requested property in Chicago is probably the 3 bedroom condo — and outdoor space of some kind is usually a "must have" for today's buyers.
This post includes information for 3 bedrooms in 3 Chicago neighborhoods – Near North (including Streeterville and the Gold Coast), the Loop, and the Near South Side (South Loop).
Three Bedroom Sales Statistics
Three bedroom condos in the South Loop, Loop, and Near North are listed (on average) at $ 1.3MM, and they range in price from $ 335,000 to $5,900,000.  There are currently 271 condos for sale in these neighborhoods, and 336 have sold over the last 6 months — the inventory is low right now!
The properties that sold were under contract in an average of 97 days, and they sold for 96% of the listed price at the time of contract. (Many had price reductions during the listing — the sales price was 89% of the ORIGINAL listed price.)
Click Here  for Condo Sales Data for the Loop, Near North, and South Loop Neighborhoods
# Months Supply of 3 Bedroom Condos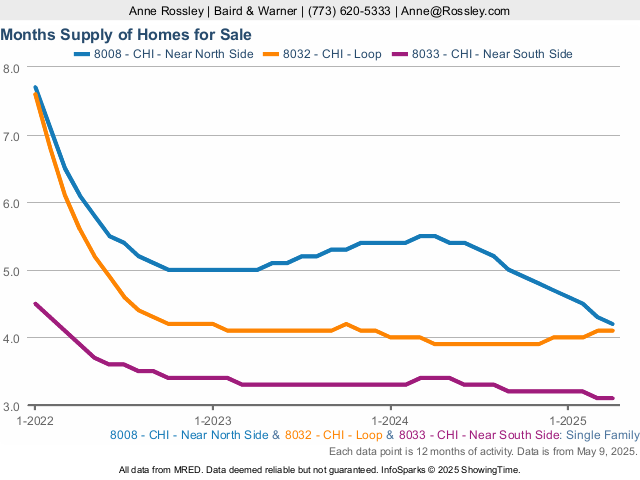 Average Sales Prices of 3 Bedroom Condos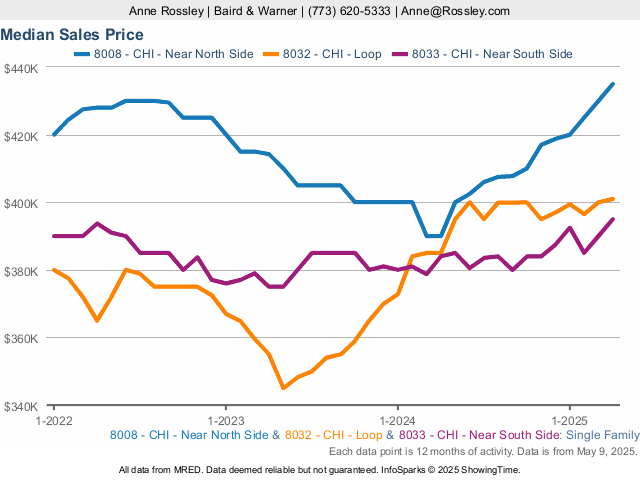 See What's for Sale Today…
Select the appropriate link below and see what 3 bedroom condos are listed now:
Best 3 Bedroom Condos for Sale
$500,000 – $800,000
While 3 bedroom condos average over $1MM in these neighborhoods, I've found some terrific properties for sale between $500,000 and $800,000. Below are my top choices in what's available today.
Take an online tour of these homes when you select this link.
Make an Appointment to find your  Chicago Condo!
Contact Anne Rossley of Baird & Warner
| | | Unit | | List Price | SF | Days | RMS | BR | BA | EXP | Incl? |
| --- | --- | --- | --- | --- | --- | --- | --- | --- | --- | --- | --- |
| | | | | | | | | | | | |
| 520 | Huron | 419 | Loft | $527,700 | 1700 | 7 | 6 | 3 | 2 | SW | No |
| 1530 | State | 1011 | Loft | $650,000 | 2100 | 83 | 6 | 3 | 2 | NE | No |
| 1629 | Prairie | 2705 | Condo | $591,000 | 1565 | 42 | 6 | 3 | 2 | | Yes |
| 1346 | Cleveland | 3S | Duplex | $634,500 | NR | 96 | 6 | 3 | 2 | | Yes |
| 240 | Illinois | 401 | High Rise | $649,900 | NR | 28 | 6 | 3 | 2.1 | S | No |
| 530 | Lake Shore | 904 | Condo | $675,000 | 1900 | 255 | 6 | 3 | 3 | NE | No |
| 150 | Superior | 602 | Condo | $699,000 | 1815 | 7 | 7 | 3 | 2 | N | No |
| 21 | Elm | 2D | Mid Rise | $699,000 | NR | 216 | 6 | 3 | 2 | | |
| 1122 | Dearborn | 18J | High Rise | $725,000 | 1750 | 392 | 7 | 3 | 2.1 | NW | Yes |
| 1410 | State | 3B | Condo | $750,000 | 2000 | 52 | 6 | 3 | 2.1 | SE | No |