Update on Chicago Home Sales
60618 Zip Code
As of today's post, 160 single family homes are for sale in Chicago's 60618 zip code. They range in price from $159,000 to $ 2,599,000.
The following chart shows median sales prices for the 60618 zip code area – it's interactive- feel free to explore!
Prices – 87.8% of Jan 2009 Levels 
As of this month, median sales prices of homes ($495,000) are 87.8% of the January, 2009 median price level of $ 565,000.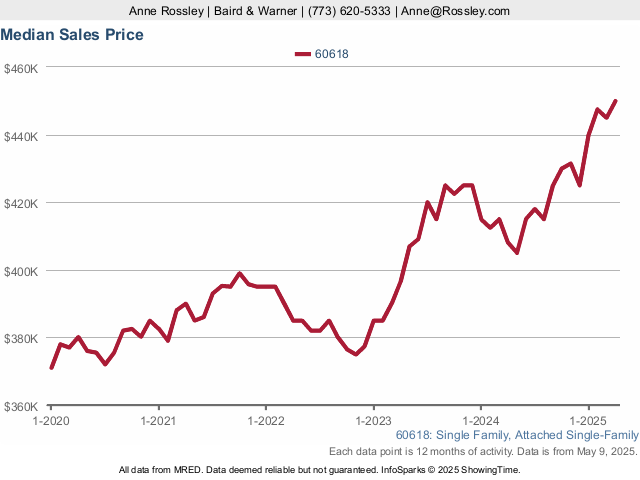 Market Times – Lowest in Over 5 Years
The average market time hit its peak in October, 2009, when it took 175 days to sell a house in 60618. Last month, the average market time of 54 days was the shortest in over 5 years!
Inventory – Extremely Low!
It's a Sellers' Market!
At the worst of the market (January, 2009), there was over a year's worth of homes for sale. This has steadily declined, and since February, we've been hovering between 2.7 and 2.8 months of homes for sale.
Lenders consider 6 months a stable market, so you can see, we're WELL BELOW that 6 months threshold!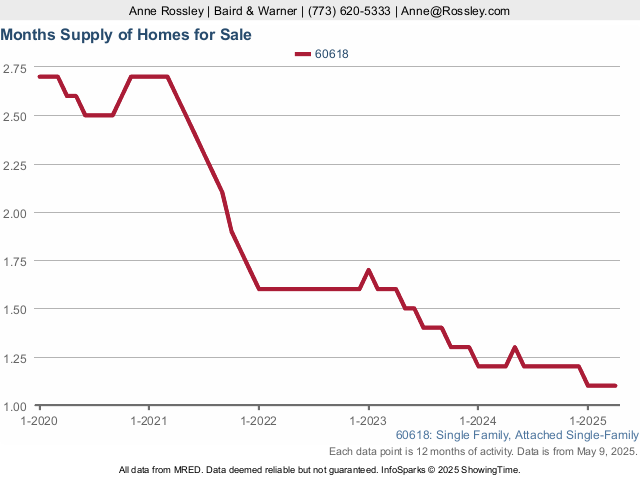 Find homes for sale TODAY by selecting this link:
Homes for sale – Chicago's 60618 zip code
To find out what your home's worth,
contact
Anne Rossley
Baird & Warner
773-620-5333