Typically, the Chicago Real Estate spring market kicks off on Super Bowl Sunday.
This year, however, buyers have been out in droves since mid-January.
Today, the activity is off the charts!
The Real Estate 606** Top Producer group, of which Anne is a member, has been strategizing about ways our buyers and sellers can take advantage of this situation. "How to take advantage of Chicago's Hot Real Estate Market" will be the topic of the next post.
Let's look at just how busy the market is:
A "healthy" market is defined by lenders as a 6 month inventory of homes available for sale.
Right now, in Anne's primary market area,
there is only a 3.1 month inventory –
the LOWEST IN RECENT HISTORY!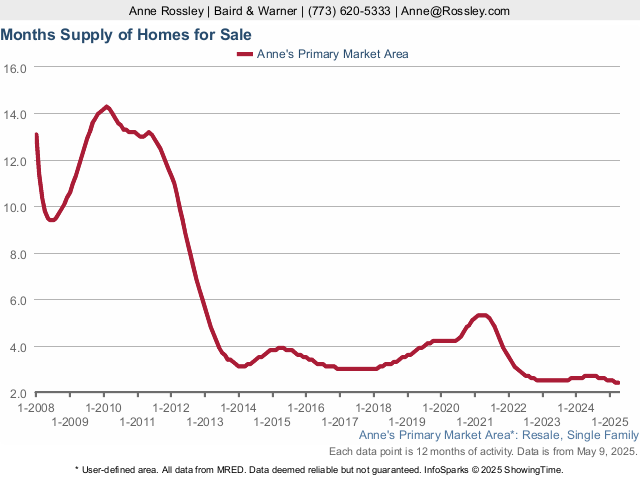 RISMedia just published the Realtor.com HOTNESS index –
the number of days on the market for real estate properties.
How HOT is Chicago's Market?
How many days does it take to sell?
This chart shows the # of days between the date the property was listed and the date a contract was agreed upon. The median number of days between list date and contract is
17!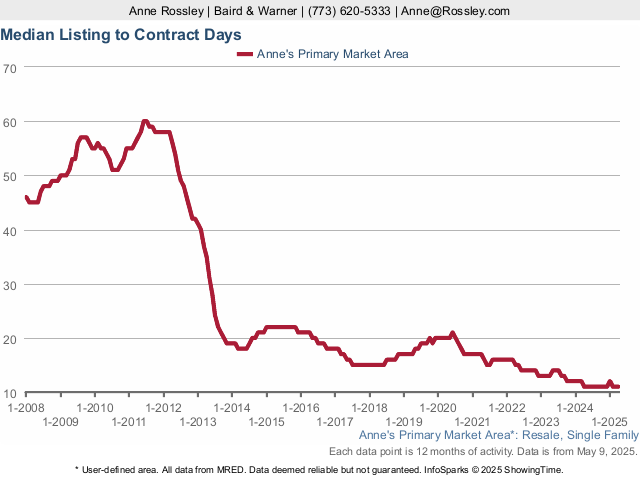 What is this HOT real estate market doing to Chicago Sales Prices?
Sales prices are increasing rapidly!
We're seeing multiple offers that exceed listing prices.
Sometimes, properties are selling without even being listed – either via agent to agent word of mouth, or via systems like MRED's private listing service or Top Agent Network (TAN), of which I'm a member.
Buyers are having difficulty finding and acquiring property…
Inventory is so low – there are not as many choices as in a typical Chicago real estate market
Buyers have to act quickly in a fast paced real estate market – this can be frustrating
Buyers who aren't working closely with a real estate agent just won't be able to find the same options as those who rely solely on online listing sites (often out of date and incomplete)
What does this mean to you?
More than ever, it's critical that buyers and sellers work closely with a real estate agent who has the experience and expertise to guide them.
For Sellers, your expert real estate agent will know how to:
Set the right listing price  – not underpricing your home and thereby "leave money on the table" ,
Price your home not so high that appraisers can't support the price and the buyers fail to get the loan,
Use a "Hot Real Estate Market Action Plan" that creates excitement, brings all buyers in quickly, and yields a quick, high priced offer
Recognize buyers' remorse, buyer pre-approvals you can count on, and buyers tying up properties while they "make up their minds"
For Buyers, your expert real estate agent will know how to:
Educate you so when the opportunity presents itself, you are comfortable enough to act,
Find the best property – via TAN, Private Listing Network, the MLS, or word of mouth,
Make your offer stand out from the pack,
Ensure you don't overpay and knows how the appraiser will evaluate the home's value, and
Will provide energy, persistence, and determination to help you achieve your goals.
Do you want to buy or sell but aren't sure where to start?
Contact Anne and let her guide you!
For questions about how to win in this HOT REAL ESTATE MARKET...