What are the latest technological innovations that help seniors?
What are the best gifts we can give our Senior Parents?
While looking online for gifts for my mom, searching for top technology for seniors, I stumbled across some interesting articles …
Useful Gifts for Seniors
 Technology for Seniors – Best Gifts

HomeCare, the leading magazine or home care professionals, lists the following products in their recent online article (see article in its entirely by selecting this link):
BeClose – sensors in home help you make sure your loved one is moving around easily, and alerts you when they may need help.
Fitbit lets us all see our activity levels, motivating us all to stay active!
The GrandCare System also includes wireless transmitters, but it provides opportunities for socializing, media, and entertainment systems.
GreatCall – This is a personal 911 system like OnStar — it can also be used with the Jitterbug phone (an easy to use phone for seniors, particularly those with vision or hearing problems).
Independa augments traditional caregiving by providing fully integrated, cloud-based solutions including a caregiver web application, a rich set of telephony-based solutions, comprehensive solutions for social engagement and health, environmental and activity monitoring.
MobileHelp, the Anywhere Help Button, is a GPS mobile personal emergency response system.
TabSafe is an online medication helper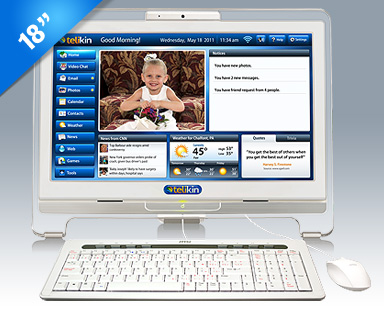 Telikin is a large table device, pre-loaded with apps forvideo chat, photo sharing, e-mail and other popular features.
TV Ears helps people with hearing loss hear the television clearly without turning up the volume.
telyHD delivers high-definition (HD) Skype video calls directly to an HDMI-compatible TV.
Technology for Seniors – Another Top 10 List

Money Magazine lists its top 10 Favorite Technology Items for Seniors, but based on my experience, these are, for the most part, too techo-forward for my 81 year old mom:
Windows7

— mom doesn't know she has Windows 7 — we install it for her

Goggles from Google –– really? who's 80+ year old parent is playing with this?
Mindflex from Mattel

— really really?

Ion

— who cares?

Roku — great device, but she forgets how to work it
Silhouette — I don't understandthe purpose of this one!
Wii — perhaps if the grandkids brought it and set it up for them…can't see mom bowling – she'd break a hip!
Flip — she'd much rather GET videos than create them
I-Tunes — we load the tunes for her — it's not much more than a digital player
Nook E-Reader —

We got her the Kindle

— Now THIS is my favorite Senior Gift!!!
No one knows better than you what to buy your senior.
But, when it comes to getting real estate advice
for your senior loved ones, contact
Baird & Warner
Your Senior Real Est
ate Specialist!